Happy B'Day to former Sri Lanka star Marvan Atapattu. Maravan is a Sri Lankan player born on 22 November 1970 in Kalutara, Sri Lanka. And his full name is Marvan Samson Atapattu. His batting style is a right-hand bat. And his bowling style is Legbreak. it's his 51st birthday.
Atapattu Career & Lifestyle, Family

:-
Marvan Atapattu is a Sri Lankan, and he is a married man. He is marrying Neluni Atapattu, a Sri Lankan Chartered Accountant by profession. Maravan and Neluni have two daughters.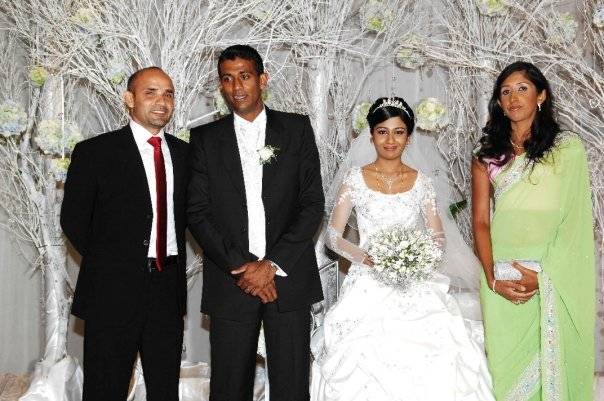 Marvan's wife images
Marvan's International Career Centuries

:-

Arriving in Test cricket in November 1990, just after his 20th birthday. Marvan Atapattu had five ducks and a 1 in his first six innings and was the first Sri Lankan batsman to be dismissed for a pair for the first time.

Apart from this difficult start in his first three matches. If he did not score above 29 in his coming 11 innings, seven years after his debut. before they scored his first Test century in his 10th match against India.

Also read:- KKR and MI set to own franchises in PLT20

He has 22 Test-match career ducks and four pairs (two ducks in the same Test), both records for a top-order batsman.

Marvan Atapattu scored his first ODI century in 1997. When he scored 153 runs in a 2-run victory against India at the R Premadasa Stadium in Colombo. At Lord's in 1998, Marvan scored an unbeaten 132 against England, his highest score in this document of the game.

He also scored two centuries in the 2003 Cricket World Cup. They scored an unbeaten 103 against Zimbabwe and made 124 runs against South Africa in only the 19th ODI in cricket history.

He was selecting as the man of the match on both occasions. His 111-run knock against Pakistan in 2004 was his last ODI century.
International CareerImages
Sri Lanka Marvan Coaching career

:-
In 2009,Marvancompleted a coaching opportunity with Fingara Cricket Academy, a coaching facility in Sri Lanka. He had a short stint as Canada's batting coach in early 2009, helping them qualify for the 2011 World Cup.
Read more:- Tim Paine returns to play three days after resigning
In 2010, he was selecting as the head coach of the Singapore cricket team for a fixed one-year term, his first full-time assignment as a national team coach. Their first assignment was World Cricket League Division 5 in Nepal where the team finished third in the group position and Division 5 for the 2012 World League.