Bangladesh cricket announced the 19-man men, T20I squad, for the series against New Zealand
Mushfiqur Rahim and Liton Das returning for the New Zealand series, Bangladesh's T20 World Cup preparations are overwhelming, the BCB has announced a 19-man squad for the upcoming five-match series against New Zealand. Both are accompanied by Aminul Islam, who is also returning from private leave.
Rahim ruled out of home series against Australia
Mushfiqur Rahim was ruled out of the recently concluded home series against Australia after being ruled out of the previous Zimbabwe series to be at the side of his ailing parents and consequently Cricket Australia's strict 10-day quarantine requirement. The deadline had disappeared.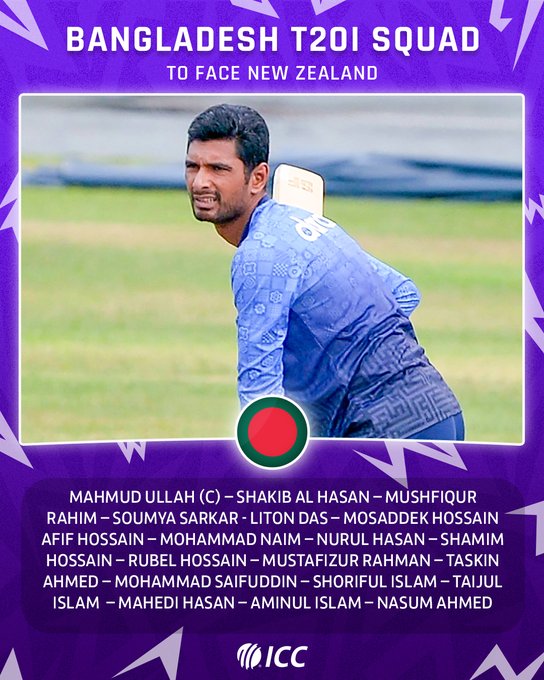 Liton was ruled out of the first T20I at Zimbabwe due to a thigh injury, returned home early from the tour to see a sick family member, and missed Australia who was hospitalized. Won by 4.
Lost his father while on national duty in Zimbabwe
Legspinning all-rounder A. I. Biplab, 22, who lost his father while on national duty in Zimbabwe, was also ruled out of the Australia series.
The 17-man side facing Australia has the bat of the innings and is Mohammed M, with whom he last played a T20I for Bangladesh on their tour of New Zealand earlier in the year.
Also read:Zimbabwe will host the Women's World Cup Qualifier of ICC
Bangladesh T20I squad
Bangladesh Squad: Mahmudullah (C), S Al Hasan, Mushfiqur, Soumya Sarkar, Liton Das, M Hossain Saikat, Afif Hossain, Naeem Sheikh, N Hasan Sohan, S. Hossain, Rubel Hossain, M Sharif, Uddin Ahmed, Shorful I, Taijul Islam, S M Hassan, A I Biplab, Nasum Ahmed.