Cricket News
Canterbury Women won the Women Super Smash's Title by beating Wellington
Melie Kerr's unprecedented second Dream11 Super Smash hat-trick is the kind of showstopping performance that wins a Grand Final.
But today, a stunning late charge from a woman better known for her aggressive pace bowling stole that show as the Canterbury Magicians got up to snatch the 2021 women's trophy with just two balls to spare.
The Magicians' tight four-wicket victory ended Blaze's three-year title tenure after a see-sawing game that saw both Finalists playing intelligent T20 cricket on a fresh strip at the Basin Reserve.
Both sides made a cautious start with the bat, took big wickets right when it counted, and turned in stellar performances with both spin and pace under pressure.
But it was ultimately Lea Tahuhu's unbeaten 38* off just 20 balls — equalling her highest T20 score — that destroyed Blaze's hitherto high hopes of a fourth straight title.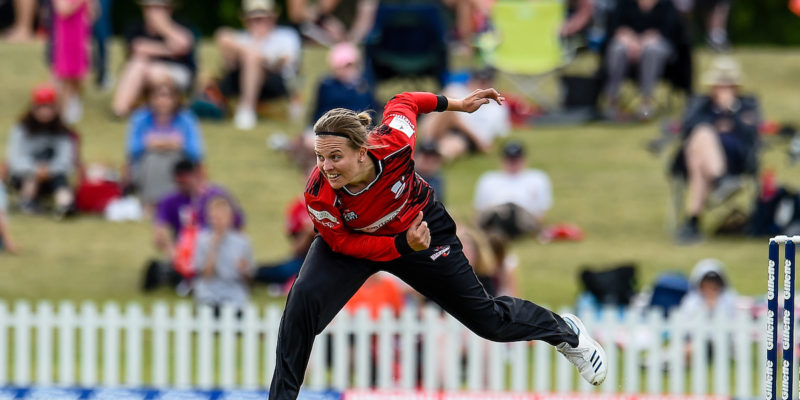 Both of Satterthwaite's next two overs saw two wickets fall in consecutive deliveries. The tall WHITE FERN put herself on an unconverted hat-trick with an advancing Kasperek stumped cheaply and Rebecca Burns trapped in the 16th; then the big wicket of Melie Kerr – run out for 25 in the 18th, and sister Jess Kerr caught behind next ball for no score.
Conceding just 12 off their last three overs, the Magicians had ensured the Blaze had missed their chance to cash in and went to the break needing little more than a run a ball.
However, the hosts also kept things tight early, Jess Kerr generating impressive in-swinging arcs and Devine conceding just four runs off her first two-over spell.
Kerr would have her revenge when Satterthwaite was caught for no score at 18/2 in the fifth – a wicket maiden, before her sister blew open the Magicians' innings with her devastating 10th over.