Cricket News
Former South African bowler Pumelela Matshikwe convicted in 2015 Ram Slam fixing case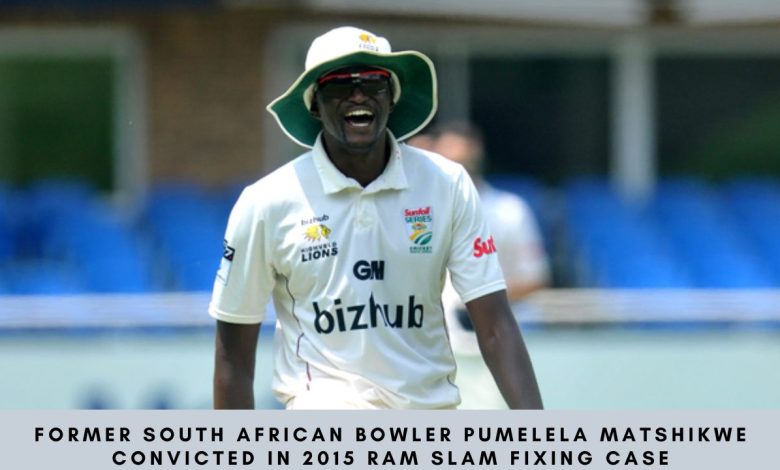 Pumelela Matshikwe has been handed a six-year jail sentence – suspended for five years – for his involvement in the 2015 match-fixing scandal in the Ram Slam T20 tournament in South Africa.
Matshikwe, the former Lions and South Africa A fast bowler, was one of six players to be handed lengthy suspensions by CSA's anti-corruption unit back in 2016.
He was suspended for ten years from all cricket and has now become the second player – Gulam Bodi was the first – to be convicted under the Prevention and Combating of Corrupt Activities (PRECCA) Act, which came into effect in 2004, in the aftermath of the Hansie Cronje match-fixing saga at the turn of the millennium.
Matshikwe was convicted following a plea agreement with a crime court in Pretoria on Friday Pumelela Matshikwe convicted in 2015 match-fixing case.
Also Read:- https://babacric.in/cricket/cricket-news/ind-vs-sa-3rd-t20-bhuvneshwar-kumar-can-make-this-special-record-in-the-third-t20-against-south-africa/
Matshikwe was convicted for the following breaches:
Receiving an incentive or payment to fix, contrive, or influence improperly a match or matches in the 2015 Ram Slam tournament
Making a payment that would bring the sport of cricket into disrepute
Failing to disclose payment to the CSA anti-corruption officer, which they knew or ought to have known was given to them for a breach of the Code
The other players who have been punished in the 2015 case are Bodie, Thamie Solekile, Jean Sims, Etsi Mbhalati, and Alviro Peterson.
And in 2019 Bodie was sentenced to five years in prison after pleading guilty to eight corruption charges.
Tsolekile, a former South African Test cricketer, was handed a 12-year ban for "attempting to fix a match at the 2015 Ram Slam; CSA failed to disclose full details of an approach to engage an anti-corruption official.
Sims was banned for seven years, while Mabhalati was banned for ten years.
Pietersen, who was the most prominent cricketer in 36 Tests, 21 T20Is, and two T20Is, was banned by the CSA for two years after admitting to 13 breaches of the Anti-Corruption Code in match-fixing scandal.
The now 37-year-old Matshikwe played 77 first-class matches in which he took 178 wickets at an average of 30.01. He was also a part of 57 List A matches and 24 T20 matches between 2009 and 2016.
Also Read:- https://www.espncricinfo.com/story/former-south-african-bowler-pumelela-matshikwe-convicted-in-2015-ram-slam-fixing-case-1319842