His sister stood up against Ravindra Jadeja and said that no one will vote for him. Chennai Super Kings player Ravindra Jadeja is currently engaged in the Gujarat elections.
Jadeja's Wife Rivaba is candidate from Jamnagar North:-
His wife Rivaba (Ravindra Jadeja Wife Rivaba Jadeja) is a candidate from Jamnagar North. Jadeja's sister is campaigning for this seat on behalf of Congress and is making every possible effort to defeat her sister-in-law.
Also read:- The BCCI will Hand Over Big Responsibility To MS Dhoni
Ravindra Jadeja had also shared a campaign video on social media after his wife got the ticket, in which he was appealing for votes.
Ravindra Jadeja's fan following is quite high, but it has to be seen whether it translates into votes or not. His wife has also filed nomination.
Voting will be held on this seat in the first phase i.e. on 1 December. While Ravindra Jadeja is making every effort to make his wife win, his sister is spreading propaganda against him!
Ravindra Jadeja Wife: Wife got ticket from BJP:-
BJP did not give ticket to its former candidate from Jamnagar North seat in Gujarat assembly elections, they have fielded Jadeja's wife Rivaba. Jadeja's wife is engaging in campaigning.
After getting the ticket, he saying that he would be happy to help people. Let us tell you that Rivaba was born in Gujarat and studied here. She married cricketer Ravindra Jadeja on 17 April 2016.
Naynaba is a Congress leader:-
Ravindra Jadeja's sister Naynaba Jadeja is campaigning to win the Congress candidate from this seat. Naynaba is a Congress leader and is against the BJP.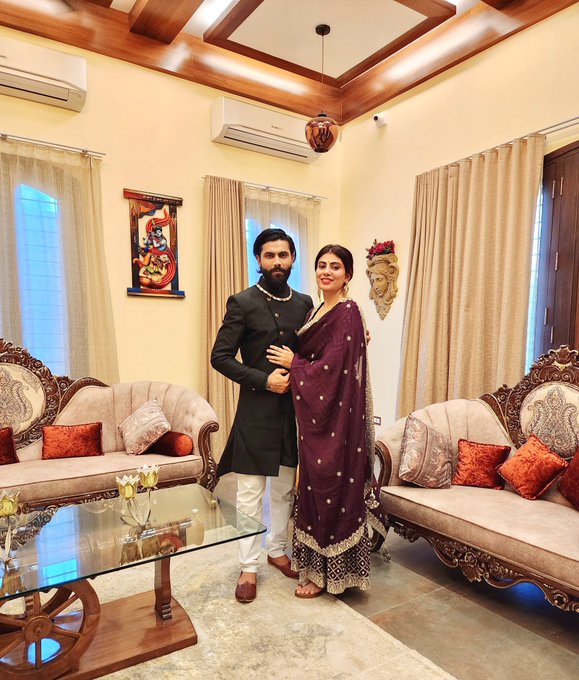 Read more:- Australia's David Warner Said in The Statement – 'I Can Retire From Test Cricket Next Year'
His statement also came after Ravindra Jadeja's wife got the ticket. He had said that he (Rivaba Jadeja) is a famous celebrity, and people will not vote for someone who is a star. People will vote for a local leader who can help them.