Cricket News
IND vs SA: Coach Rahul Dravid Suggests Hardik Pandya May Not Play in Top Five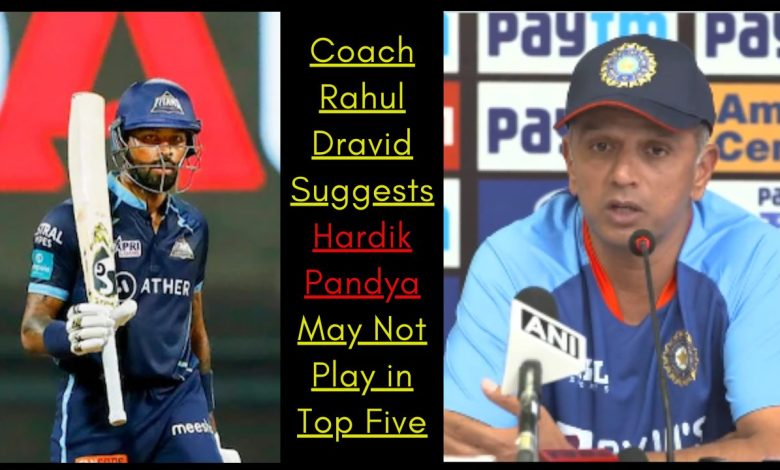 IND vs SA: Team India head coach Rahul Dravid has suggested that Hardik Pandya may not play in the top five.
He was seen playing at No 4 in IPL:-
Hardik, who led Gujarat Titans to their first trophy in the first season of the IPL, was seen playing at No. 4 in the IPL.
Also read:- AUS Beat SL 1st T20: Australia's Aaron Finch And David Warner Played Half-Centuries
But on the other hand, Rahul Dravid has clearly indicated that he may not play in the Top 5 of the Indian batting order.
Rahul Dravid said in the press conference, "I am not going to tell the batting order before the start of the game, but in general, sometimes the role you play for your franchise.
Teams will have to play a different roles:-
She matches the role that you play for India, but sometimes you have to play different roles for different teams and it is not just about Hardik.
For all the players, there are certain roles that they have played for their IPL franchise, but for the national team their roles may be a bit different which we are expecting here depending on our team composition."
Hardik had batted at No. 4 for GT in the IPL 2022 campaign. The Gujarat Titans captain is all set to make a comeback to the Indian team when they take on South Africa in the first T20I on Thursday and Hardik is expected to bat at number six for Team India.
Pandya is a prolific cricketer with both bat and ball:-
Dravid said, "Hardik is a brilliant cricketer with both bat and ball. We have seen him play for India in the past.
He has been very successful in white-ball cricket and has shown good form in this IPL as well. So having someone of that quality is good for our team combination and we are happy."
Read more:- ICC Men's Player Of The Month: ICC has Nominated These Three Asian Players For The Award
Now it will be known only after Hardik lands on the field whether he bats at No. 3 or No. 4, but according to Rahul Dravid. He is currently looking at him only as a finisher and to bat at No. 5. Chances are less.