Cheteshwar Pujara Birthday: Indian cricketer Cheteshwar Pujara is celebrating his 35th birthday today, Pujara, an important player of the Test cricket team, is included in the Test Squad (IND vs AUS Test Squad) against Australia.
There are many such facts about Pujara:-
He will soon join the team. There are many such facts about Cheteshwar Pujara, about which probably no one knows. From his wife (Pujara Wife) to his cricket records.
Also read:- Dravid Gill's Interview: Shubman Gill Reveals The Secret Of His Success
Pujara had a deep connection with cricket since childhood. Pujara's father Arvind Pujara (Cheteshwar Pujara Father) played first-class cricket for the Saurashtra cricket team. His uncle Bipin Pujara also played first-class cricket for the same team. Both played as wicket-keeper batsman.
Cheteshwar Pujara's family was associated with cricket, he also started learning the tricks of cricket from his childhood. But today Pujara, who has made his mark as a batsman, started his cricket as an all-rounder player.
He also used to bowl leg-spin, but later his coach and former all-rounder Carson Ghavri asked him to focus only on batting.
Pujara's mother also felt from the beginning that one day when he would get a chance in Team India, he would never look back, he would achieve success. It happened exactly the same.
His mother died in 2005, she was suffering from cancer. At this time Pujara was 17 years old and was playing Ranji tournament.
Pujara will always be sad that his mother could not see his success, although after this incident Pujara became more determined towards his game.
Cheteshwar Pujara Test Career:-
He became the joint-fastest Indian batsman to complete 1000 runs in Test cricket, he and Sunil Gavaskar touched the figure in 11 matches.
Before the India vs Australia (IND vs AUS Test 2023) Test series, Cheteshwar Pujar has played 98 Test matches, scoring 7014 runs.
Cheteshwar has scored 19 centuries and 34 half-centuries in his Test career. Apart from this, Pujara has played 5 ODIs, scoring a total of 51 runs.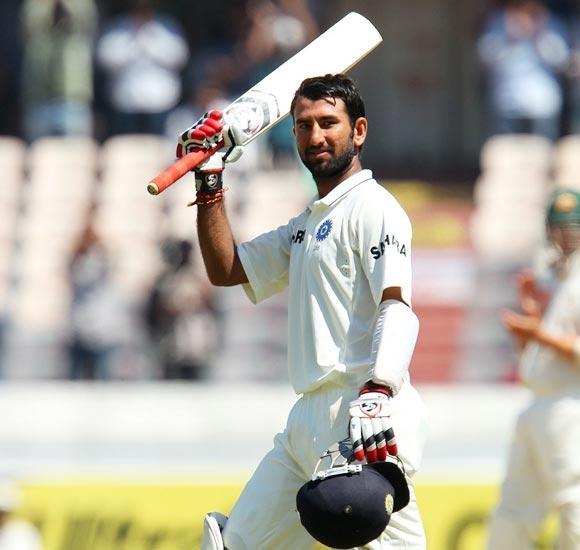 Read more:-  Ruturaj Gaikwad Ruled Out Of T20 Series Against New Zealand
Cheteshwar Pujara's wife:-
Pujara's wife's name is Pooja. Pujara and Pooja were married with the consent of the family members, when both of them met for the first time, it is said that they kept talking for about 2 hours.
The two married in 2013, five years later in 2018, their daughter was born. Pujara's wife Pooja is a management graduate. She completed her schooling in Rajasthan, after which she did her MBA and started working in Mumbai.