IPL 2023: Former chairman Lalit Modi is on oxygen support for a week. Lalit Modi, the founder of London IPL, who was taken for treatment, is ill. He is currently dependent on oxygen support.
Modi giving updates on his condition on social media:-
Modi has been found infected with COVID-19 twice in two weeks (Lalit Modi Health) and has severe pneumonia.
Also read:- India's Mastercard Squad For NZ Tour And First Two Tests Against AUS Announced
Lalit Modi shared a post on social media giving an update on his condition, revealing that after three weeks of quarantine, he had been moved from New Mexico to London.
Posted some of his Pictures from the hospital bed with the message:-
Lalit posted some pictures of himself from the hospital bed on Instagram with the message. He wrote: "Influenza with COVID twice in 2 weeks and severe pneumonia after 3 weeks in quarantine. Finally reached London via air ambulance with two doctors and superstar super skilled son."
He captioned the image, "With my two guards. Two doctors closely monitored my treatment for 3 weeks.
They took care of my health 24 hours a day with one Mexico City-based doctor and another from my London doctor.
I have no words to describe it:-
I have no words to describe the sacrifice of his time he took to heal me. Still needs time to recover. Currently on oxygen.
When Lalit Modi publicly announced his "relationship" with Bollywood actress Sushmita Sen on social media last year, it sparked widespread speculation that the two were planning to tie the knot soon.
Read more:-  Captain Rovman Guides Dubai Capitals To A Massive win in The Opening DP World ILT20 Match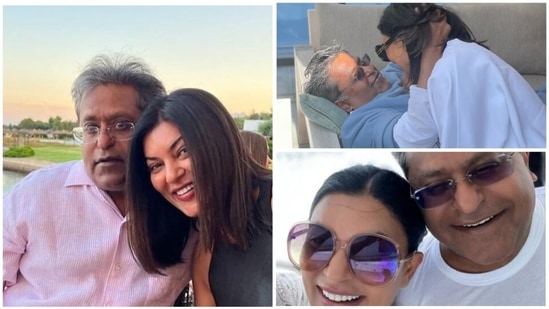 However, Lalit Modi and Sushmita Sen have not shared any pictures together for months and there is no information about them being seen in public, which has led many to believe that the relationship is over.