Cricket News
IPL Media Rights Auction: TV-Digital rights for India sold for 44,000 crores, the value of a match at number two in top 5 sports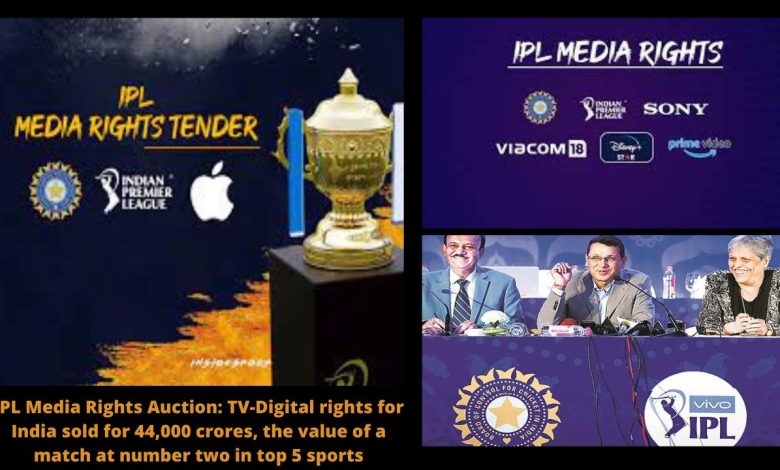 IPL Media Rights Auction: The process of bidding for the broadcast rights of matches in the next five seasons of IPL is underway. This time the BCCI decided to sell the media rights in four groups. According to media reports, the bidding of the first two groups has been completed.
Also Read:- PAK vs WI: Pakistan Imam-ul-Haq breaks Gayle-Williamson's record, just 3 steps away from world record
IPL Media Rights Auction: About 24 thousand crore rupees bid for TV media rights :-
The first group was of TV media rights in India and for this a bid of about 24 thousand crores has been made. At the same time, the second group was the broadcast rights of IPL on OTT platform and for this a bid of about 20 thousand crores has been made. It has also been claimed in media reports that different broadcasters have got the rights for TV and digital broadcasting.
The channel will have to pay Rs 57.5 crore to broadcast IPL matches in TV :-
The channel broadcasting IPL matches on TV will give Rs 57.5 crore to BCCI for every match. At the same time, the company broadcasting IPL matches on the digital platform will give Rs 48 crore to BCCI for every match.
Accordingly, the cost of one IPL match has exceeded 105 crores. The companies (TV and digital) broadcasting matches in India from 2023-2027 will give a total of Rs 44,075 crore to the BCCI.
IPL Media Rights Auction: The cost of a match of IPL is more than EPL, second in top 5 sports :-
The media rights auction for IPL 2023-2027 is yet to be completed, but an IPL match has cost more than EPL. The cost of an EPL match is around Rs 86 crores, but the cost of an IPL match has crossed Rs 105 crores.
American Football League at the forefront of earnings :-
Now only NFL (American Football League) is ahead of IPL in terms of earning from a match. The cost of an NFL match is Rs 109 crore. Once the IPL media rights auction is completed, one IPL match could cost more than all other leagues.
Value of a match in top five sports leagues :-
League One Match Price
NFL Rs 109.31 crore
IPL Rs 105 crore
EPL Rs 85.89 crore
MLB Rs 85.89 crore
NBA Rs 15.61 crore
IPL Media Rights Auction: Bid will be made for the broadcast of the match in foreign countries :-
Now bidding will be done for the telecast of IPL matches abroad. Apart from this, the bidding for the broadcast of special matches of IPL will also be done. IPL media rights auction can completed today. Group A and Group B auctions are over, now Group C and Group D will be auctioned.
Number of matches can be 94 in a season of IPL :-
Companies that buy media rights can get 74-74 matches in three seasons from 2023 to 2025. The number of matches could reach 94 in 2026 and 2027. Media rights sold this year in four different packages.
Package-A has TV rights for India and Package-B contains digital rights for India. Package-C includes select 18 matches and Package-D includes TV and digital rights abroad.
Also Read:- Bangladesh Pacer Mustafizur Rahman is Learning His Trade With Dukes
Star had the rights till 2022, bought the rights for about 16000 crores :-
Star India had in September 2017 bought the media rights for the period 2017 to 2022 at a bid of Rs 16,347.50 crore. He defeated Sony Pictures.
After this deal, the cost of an IPL match was Rs 54.5 crore. In 2008, Sony Pictures Networks won the media rights for 10 years at a bid of Rs 8,200 crore.