KKR Owner 2023: KKR Team Owner Shahrukh Khan Became A Helper Of Anjali's Family Who Lost Her Life in A Delhi Accident. And the financial assistance given to his family.
Killed after being run over by a car in Delhi:-
Shahrukh Khan's Meer Foundation, co-owner of IPL franchise Kolkata Knight Riders, has given financial help to the family of Anjali Singh, who was killed in a car accident in Delhi.
Also read:- ICC Women's Player Of The Month Nominations For December 2022
Anjali Singh's case (Anjali Delhi Case) is currently in the headlines of the media, now the police is investigating whether it was a road accident or someone's conspiracy.
Anjali was the only breadwinner in her household, and was taking care of her ailing mother.
In media reports, a member of Anjali's family has confirmed that Shahrukh Khan's Mir Foundation has given financial help to Anjali Singh's family.
Killed after being run over by a vehicle in Delhi's Kanjhawala Road:-
However, the member refused to reveal how much money Shah Rukh Khan's foundation has helped. Anjali's mother who was killed after being run over by a car in Delhi's Kanjhawala Road was ill.
She was the only earning member in the house, with this help from KKR, the family will get financial support. Although Anjali died from under the car or something else happened before that.
The family member also told that a call was received from Shahrukh Khan's Meer Foundation, although Shahrukh Khan did not speak to him, but the team member of this foundation talked to him and asked for his bank details.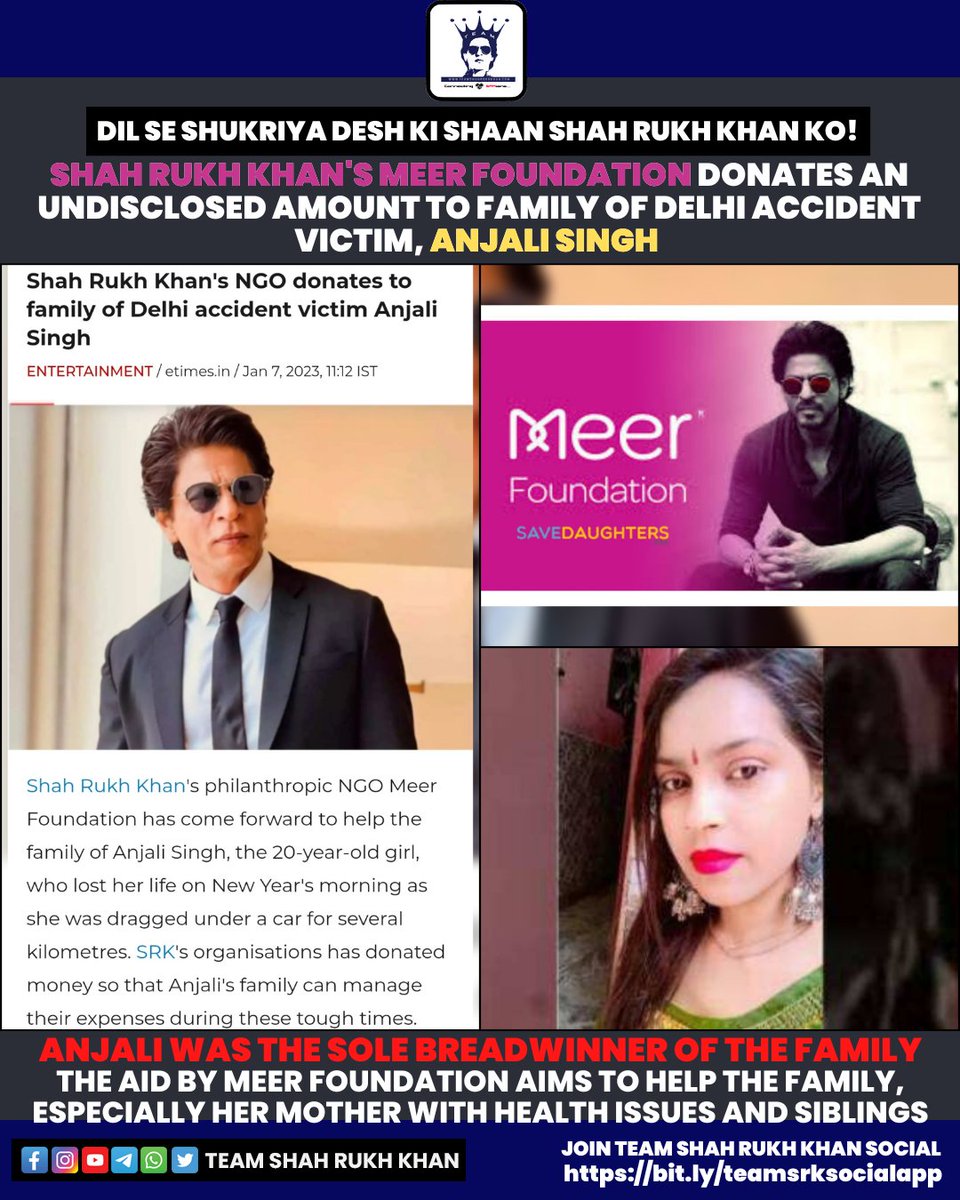 Anjali Singh's mother's treatment expenses will also be used:-
After reaching the help, the call came once again and asked to check in the bank whether the amount has come or not? On this the member said that the foundation has been informed that the amount has reached.
This amount will also be used for the medical expenses of Anjali Singh's mother. Bollywood actor Shah Rukh Khan is also the co-owner of IPL team KKR.
Anjali Singh had gone to celebrate the new year with her friend. According to the investigation so far, Anjali Singh was on the scooty with her friend.
Read more:-  ICC Men's Player Of The Month Nominees For December 2022
After hitting a car, Anjali's friend fell but Anjali came under the car. Anjali was trapping and the vehicle dragged her for several kilometres, due to which she died a painful death.