Republic Day 2023: Dhoni Lieutenant Colonel, Kapil Dev, and Sachin Tendulkar have got this post in the Indian Army. Today the whole country is celebrating its 74th Republic Day. The Indian Army showed its valor on the Rajpath.
The country feels safe because of them:-
Indian Army is the life of this country, and because of them the country feels safe. He is the one who protects us and this country by risking their lives.
Also read:- Axar Meha Wedding: Bride Meha Patel Arrived in Sangeet Ceremony Wearing Ghaghra Choli
He gives great service to the country. But here we are telling you about those Indian players who are associated with the Indian Army.
From MS Dhoni (MS Dhoni) to Sachin Tendulkar (Sachin Tendulkar), let us know who got which rank (Rank in Indian Army).
MS Dhoni Army Rank
MS Dhoni, one of the most successful captains in the world, has a special attachment to the army. In 2011, Dhoni is Lieutenant Colonel (Dhoni Rank in Army) in the Indian Army.
Dhoni also did patrolling with the soldiers in the valley. For this, he had also withdrawn his name from the West Indies tour at that time.
MS Dhoni currently plays only IPL, it is possible that the upcoming IPL (IPL 2023) may be his last IPL season.
Sachin Tendulkar Army Rank
The God of Cricket, Sachin Tendulkar has brought laurels to himself and the country with his talent across the world. Sachin made many records in his name, many records are such that no one has been able to break them till date.
Sachin Tendulkar, who captained Team India, is a Group Captain in the Indian Air Force. Tendulkar has flown in the Sukhoi-30 MKI of the force.
Abhinav Bindra
Abhinav Bindra's name is very famous in the country, of course, people in the country are still unaware of his game, but Bindra has made a place in the hearts of the countrymen with his records. Bindra was commissioned into the Territorial Army in 2011, he was appointed in the rank of lieutenant colonel.
Kapil Dev Army Rank
Captain Kapil Dev, who won India the World Cup in 1983, also wears an army uniform. On 24 September 2008, Kapil Dev was commissioned into the Indian Territorial Army. He joined as Honorary Officer.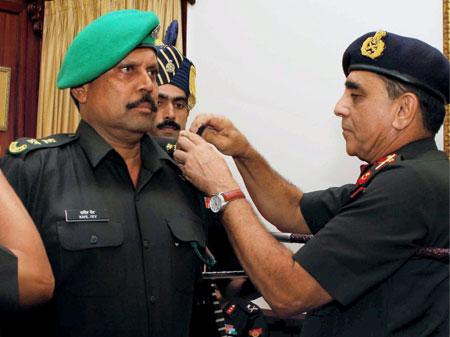 Read more:-  Mahendra Singh Dhoni And Hardik Pandya will Remake Sholay
Milkha Singh
Late Milkha Singh ji is the pride of the country. Apart from being a runner, he was also an army officer. Farhan Akhtar's film Bhaag Milkha Bhaag was also based on Milkha Singh ji. It showed how he became a famous runner from the army and brought laurels to the country.