ICC T20 Rankings: Suryakumar Yadav continues to top the T20 rankings with 908 rating points. Yadav, who is at number one in the T20 International batsmen's rankings (ICC T20 Rankings), is running in excellent form these days.
Suryakumar scored a century in the last match:-
In the recently concluded T20 series against Sri Lanka, Suryakumar scored a century in the last match (IND vs SL).
Also read:- Kohli Reveals The Secret Of His Fitness After Scoring His 73rd Century
Now with this Suryakumar (Suryakumar Yadav) has crossed the mark of 900 rating points in the ICC T20 rankings. At the same time, former Indian cricketer Ajay Jadeja has started calling Suryakumar better than AB de Villiers.
Suryakumar Yadav currently holds the number 1 position in the rankings for T20 International batsmen with 883 points.
It is expected that Suryakumar Yadav will cross the 300 mark when the new ranking chart comes out. David Malan and Aaron Finch are the only players in cricket history to cross 900 points.
Yadav gave his best Performance in T20 World Cup in 2022:-
India's star batsman Suryakumar Yadav won everyone's heart with his excellent performance in the T20 World Cup held last year i.e. in 2022.
At the same time, he continued his form in the year 2023 and scored 112 runs in the third and final match against Sri Lanka in Rajkot.
Now happy with his performance, all the cricketer fans and former players are praising him fiercely.
In a recent conversation with Cricbuzz, Ajay Jadeja told that Suryakumar Yadav is now with AB de Villiers.
Ajay Jadeja said, "With AB de Villiers we saw, I mean he was one of the best players we have seen,
It doesn't have any message. He (Suryakumar Yadav) has a bit more consistency and I think what he adds to AB is that he has a bit more power in his game.
Suryakumar Yadav played an unbeaten inning of 112 runs in just 51 balls in the final T20 against Sri Lanka. Which includes nine sixes and seven fours.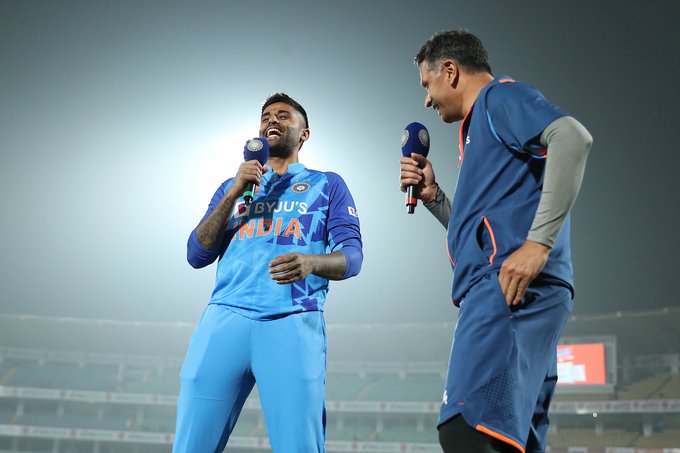 Indian captain Hardik Pandya said:-
At the same time, in the year 2017, against Sri Lanka, Rohit Sharma had scored a century in 35 balls. At the same time, after this last T20, India's captain Hardik Pandya said, 'He (Suryakumar Yadav) is surprising everyone and telling everyone that batting is very easy.'
Suryakumar added, "It is really important to take the pressure off yourself when you are preparing for the game. The more pressure you apply, the better you can play. There is a lot of hard work involved.
Read more:-  Kohli 73rd Century: Virat Kohli Scored A Century At Home After Four Years
Also included are some quality practice sessions." Yadav further said, "Most of the time, I try to find the gap and use the field to my advantage. Coach Rahul Dravid lets me enjoy and asks me to express myself."