Cricket News
This Legendary Player Of India will Retire From Test Cricket
This legendary player of India will retire from Test cricket, it is considered as difficult as being selected for the Indian cricket team.
Must be Retained in Team India:-
It is many times more difficult than that to maintain himself in Team India because there are many such players outside the team as well.
Read more:-  IND vs SA 4th T20: After 16 Years, Dinesh Karthik Scored The First Half-Century Of His Career
Those who give strong competition on the basis of their best performance. Because of Rohit Sharma, the Test career of a strong player of Team India was completely destroyed. This player is none other than Rohit Sharma's best friend.
For which Hitman himself proved to be a villain. Rohit Sharma ended the Test career of his own best friend. Now even imagining the return of this player to the Test team is impossible.
Now everyone, including the current captain of Team India Rohit Sharma, has turned his back on this player regarding his place in the Test team.
Rohit Sharma became the biggest villain for his best friend:-
This player is not getting a single chance to play in Test cricket. The batsman whom the selectors are ignoring, he is an expert in stormy batting like Rohit Sharma.
There was a time when 35-year-old Shikhar Dhawan was considered the biggest match-winner of Team India, but now Rohit Sharma has become the biggest obstacle in Shikhar Dhawan's Test career.
The selectors are not giving Shikhar Dhawan a chance in the Test team for a long time. It is difficult to remove Rohit Sharma from the opening position after becoming the Test captain.
With Rohit Sharma, now either KL Rahul gets a chance as an opener in the Test team or Mayank Agarwal gets a chance.
The doors of the Test team are now closed for Shikhar Dhawan. Everyone has turned their back on Shikhar Dhawan.
Not Getting Any chance:-
In place of Shikhar Dhawan, KL Rahul and Mayank Agarwal are now given more chances in the Test team. Talking about Test cricket, Dhawan last played red-ball cricket for India in the year 2018.
If we look at the statistics of Shikhar Dhawan, he is seen as the top player in all formats of cricket. In Test cricket too, Shikhar has scored more than 2300 runs in 34 matches at an average of 41.
In which he has scored a brilliant 7 centuries, but it seems that the selectors have not assessed Dhawan correctly.
Rohit was a super hitting Pair:-
For the first time in the 2013 Champions Trophy, charismatic captain Mahendra Singh Dhoni brought Rohit Sharma and Shikhar Dhawan to open. Since then both of them became the foundation of Indian batting.
Together they had scored many runs in the top order. With Rohit, Dhawan scored runs in every field of the world. The biggest bowlers, seeing their batting, press their fingers under their teeth,
But in the last few years, Rohit Sharma has become a pair with KL Rahul. In such a situation, the selectors started pushing Shikhar Dhawan on the margins. Now Shikhar Dhawan's return to the team seems impossible.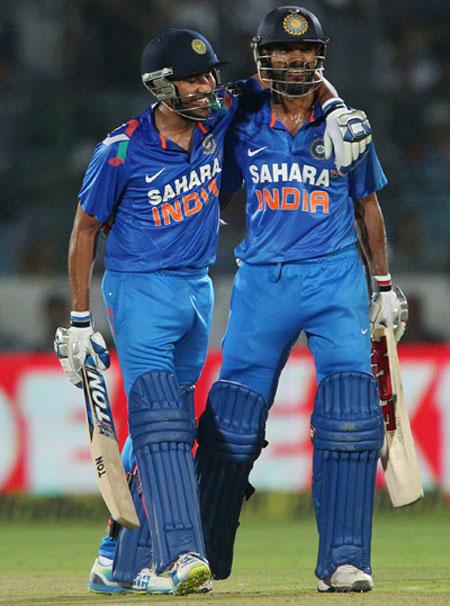 A Great Career
Shikhar Dhawan was once a strong pillar of the Indian team's batting order, but with time the story changed. He has played cricket for India in all three formats.
Dhawan has scored 2315 runs in 34 Test matches, 6284 runs in 149 ODIs, and 1759 runs in 68 T20 matches for Team India. He has been running out of the Test team for the last four years. His form kept coming.
He loses his bat in one match and remains silent in the next two matches. Many young players have taken his place in Team India. In such a situation, the sword is seeing hanging on his career.
Read more:- India Tour of England 2022: Virat Kohli And All Players have Started Preparing For The Decider Test
Test cricket's doors are almost closing:–
Shikhar Dhawan's return to the Test team seems unlikely after Rohit Sharma and KL Rahul cemented their place as Test openers. Dhawan has not played in Test cricket since 2018.
After that, he was not giving a chance to play in any Test series. Seeing all this, it is understandable that the doors are now closing for Dhawan in Test cricket.