Cricket News
IPL
Virat Kohli Reveals his inspiration – 'I Want India to Win Asia Cup And T20 World Cup'
Virat Kohli reveals his inspiration – 'I want India to win Asia Cup and T20 World Cup, Former India captain Virat Kohli reveals his motivation to continue playing cricket despite poor form.
The Star Sports Interview:-
Kohli, who last scored a century in any format in November 2019, was candid about his ongoing struggles in a Star Sports interview.
Also read:- England's Mark Wood Will Miss The Upcoming WTC Series Against NZ
He has had a poor IPL 2022 as well, with a tournament strike rate of 118 against Gujarat Titans after 73 against (54) he averaged over 20.
Former India coach Ravi Shastri had suggested the star batsman take a break, saying he was "overcooked". Acknowledging the concerns of Shastri and other former cricketers, Kohli indicated that he is open to the idea of ​​walking away from the game.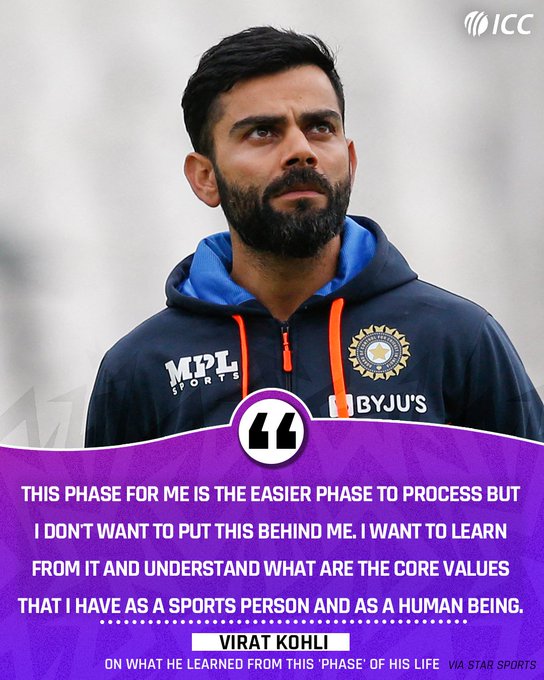 Not Many People Mentioned It:-
"Not many people mentioned it (taking a break)," Kohli said. "There is one person who has mentioned this which is Ravi Bhai and that is because he has seen the reality of the situation in which I have lived in the last six-seven years.
"The amount of cricket I've played and the ups and downs and the toll that. It takes you to play the three formats of the game as well as IPL. For 10-11 years non-stop in between seven years of captaincy… "
"It's definitely something that needs to be considered because you don't want to do something you're not 100% a part of and I've always believed in that in my life," he said.
It's Just a healthy decision:-
"So when to take a break and when to take a break is obviously something I need to take a call on. But it's only a healthy feeling to take some time out for someone and rejuvenate themselves mentally and physically." decision."
"So I have started giving more importance to myself as a person and whatever happens on the field. I am not getting any source of encouragement or disappointment.
In the heat of this time, because you are a competitive player and this is your profession. It is something for which you prepare very well, you feel frustrated when you are not able to contribute as much to the team as you do. want.
Didn't contribute that much to my team:-
"But it's not about me. It's about the fact that I haven't contributed as much to my team. As I wanted to, or that I'm proud of myself."
Asked about his plans after the IPL, Kohli expressed his desire to help India win two big tournaments this year.
"I want India to win the Asia Cup and the T20 World Cup; that's the motivation," he said.
Read more:-  GSY vs JER Dream11 today match Prediction Pitch Report, Player Stats, teams
"I have to keep balance, take some rest, do some rejuvenation, Once I am in the mindset there is no looking back.
My main aim is to help India win the Asia Cup and the World Cup and for that, I am ready to do anything for the team.