Former cricketer Akash Chopra has given a big response to the question of Suryakumar Yadav playing in Test matches. He told whether Suryakumar Yadav should play in Test matches or not. Recently, Gautam Gambhir had talked about giving Suryakumar Yadav a chance in Test matches as well.
He hit a Century by Raining Fours and Sixes
Suryakumar Yadav played a tremendous innings in the third T20 match against Sri Lanka. He scored a century by raining fours and sixes. Suryakumar Yadav played an unbeaten inning of 112 runs in just 51 balls with the help of 7 fours and 9 sixes and became the second highest century scorer in T20 for India. After this, he is being praised a lot.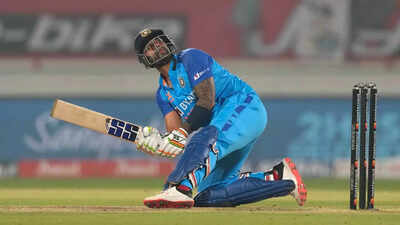 Also Read: Former Pakistan cricketer praises India for 2-1 Series Win Against Sri Lanka as saying
Gautam Gambhir was very impressed by this innings of Suryakumar Yadav and talked about giving him a chance in Test matches as well. A lot of debate has started regarding whether Suryakumar should be played in Test cricket or not. Many people also opposed this and said that Sarfaraz Khan should get a chance in Test before Suryakumar Yadav.
Akash Chopra Gave a big Reaction Regarding Suryakumar Yadav
At the same time, Akash Chopra has also given his opinion regarding this. During a conversation on his YouTube channel, he said,
Also Read: Yastika Bhatia Interview: Yastika Bhatia, playing the first World Cup, had a special conversation with Gujarati Jagran
I believe that we should not be in a hurry as this often happens in our country. If we get a good player then we say that he should be played in all the three formats. At this point of time I think we want to do that with Shubman Gill. Earlier this happened with Rishabh Pant as well. People wanted to see him in all three formats and now this is happening with Suryakumar Yadav.