Cricketer
R Ashwin achieved the milestone of 400 wickets
R Ashwin achieved the milestone of 400 wickets in 77 Test matches, Ashwin is the second quickest among all bowers apart from Muttiah Muralitharan who reached there in 72 Tests.
Ashwin overtook Sir Richard Hadlee of New Zealand and Dale Steyn of South Africa, who were joint-second on the list. The duo took 80 Tests while Ashwin bagged the 400th in his 77th match.
Ravichandran Ashwin is the 16th bowler to reach the landmark and fourth Indian after Kapil Dev, Anil Kumble, and Harbhajan Singh.
Ashwin also holds the Indian record for the fastest, in terms of number of Tests, to milestones of 100 wickets (18), 200 wickets (37) as well as 300 wickets (54).
"It feels amazing, the way the board was flashing 400 wickets, the entire stadium stood up and clapped for me," Ashwin said in a post-match interview.
"I can't really get a grip of what's happened in the last 2-3 months. If I look back, I must say it's been sort of a dreamy ride, it's been a fairytale. When I started the Aussie tour, I didn't expect to be playing in the XI because Jadeja was looking like he was going to start. And he got a hamstring tear and since then things have just looked upwards."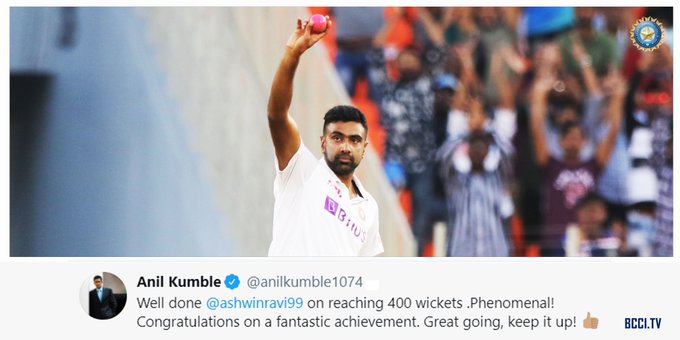 Fastest Tests to 400 wickets:
| Player | Tests | Team | Avg | SR | Days from debut |
| --- | --- | --- | --- | --- | --- |
| M Muralitharan | 72 | SL | 23.71 | 60.2 | 3428 |
| R Ashwin | 77 | Ind | 24.95 | 53.0 | 3400 |
| Richard Hadlee | 80 | NZ | 22.12 | 50.8 | 6212 |
| Dale Steyn | 80 | SA | 22.49 | 41.6 | 3878 |
| Rangana Herath | 84 | SL | 27.82 | 59.6 | 6586 |
| Anil Kumble | 85 | Ind | 28.40 | 67.2 | 5173 |
| Glenn McGrath | 87 | Aus | 21.65 | 51.4 | 3266 |