IPL
IPL 2022: Virat Kohli praised this player fiercely on the victory of RCB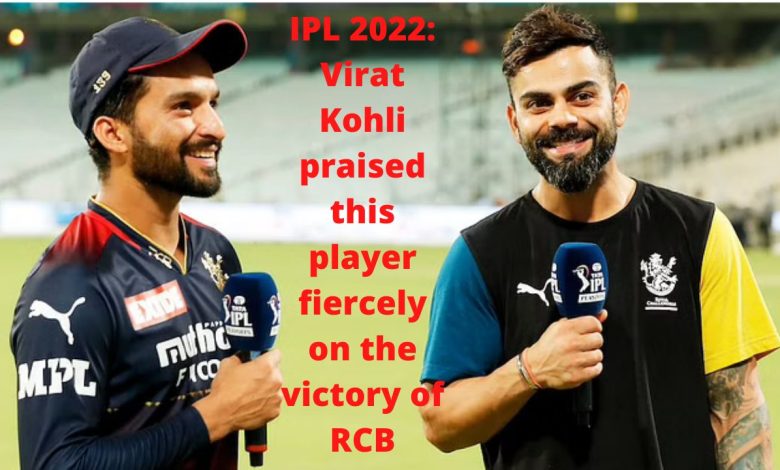 Virat Kohli, RCB: In the Eliminator match of IPL 2022, Lucknow Super Giants suffered a crushing defeat at the hands of Royal Challengers Bangalore. With this win, RCB team has qualified for Qualifier 2 where they will face Rajasthan Royals.
RCB got the victory in the Eliminator due to the excellent century of star batsman Rajat Patidar. Now veteran batsman Virat Kohli has given a big statement regarding the silver innings.
Also Read:- RCB vs LSG, IPL 2022: After the defeat of Lucknow, the veterans got angry, blamed the captain Rahul only for the defeat
Big statement of Virat Kohli, very happy with the good performance of this player in the match :-
Former India captain Virat Kohli said that Rajat Patidar's match-winning century in the IPL Eliminator was one of the best innings he has played under pressure. Patidar of Indore played an unbeaten innings of 112 runs in 54 balls for RCB here on Wednesday night.
Kohli added 66 runs with Patidar. He said in RCB's 'Game Day', 'Rajat Patidar's innings was one of the best innings played under pressure and I have seen many such innings.
Virat praised Patidar fiercely, said the biggest match winner :-
Virat further said, 'The level of his striking in this match was excellent. Keep watching him. He also praised this 28-year-old player.
Also Read:- LSG vs RCB IPL 2022: Captain KL Rahul got angry on this mistake of his team, told why he lost to RCB
Karthik also gave a big statement, praised Patidar fiercely :-
Karthik said, 'It was probably the best innings of an 'uncapped' player I have seen. Brilliant batting. He is calm and has a shy personality. It shows in his batting too, you would think he is lazy but it is his personality.
He said, 'Rajat Patidar played some great shots and made my job easy; it is an important thing for a good team. Now RCB will face Rajasthan Royals in the second qualifier on Friday.