Cricket News
ICC fined team India for a slow over-rate in the 2nd T20I match
Team India won the second T20I match but India fined due to the slow over-rate in the second T20I match against England at Narendra Modi Stadium, Ahemdabad
ICC Elite Panel of Match Referee Javagal Srinath approved that team India side was ruled to be one over short of the target time after time allowances were taken into consideration.
On-field umpires Anil Chaudhary and K.N. Anantpadmanabhan and third umpire Virender Sharma alleged that India will be fined
Acordding to the artical 2.22, Players are fined 20 percent of the match fees.
Convicted Kohli for the offense and accepted the proposed sanction, so no formal hearing was required.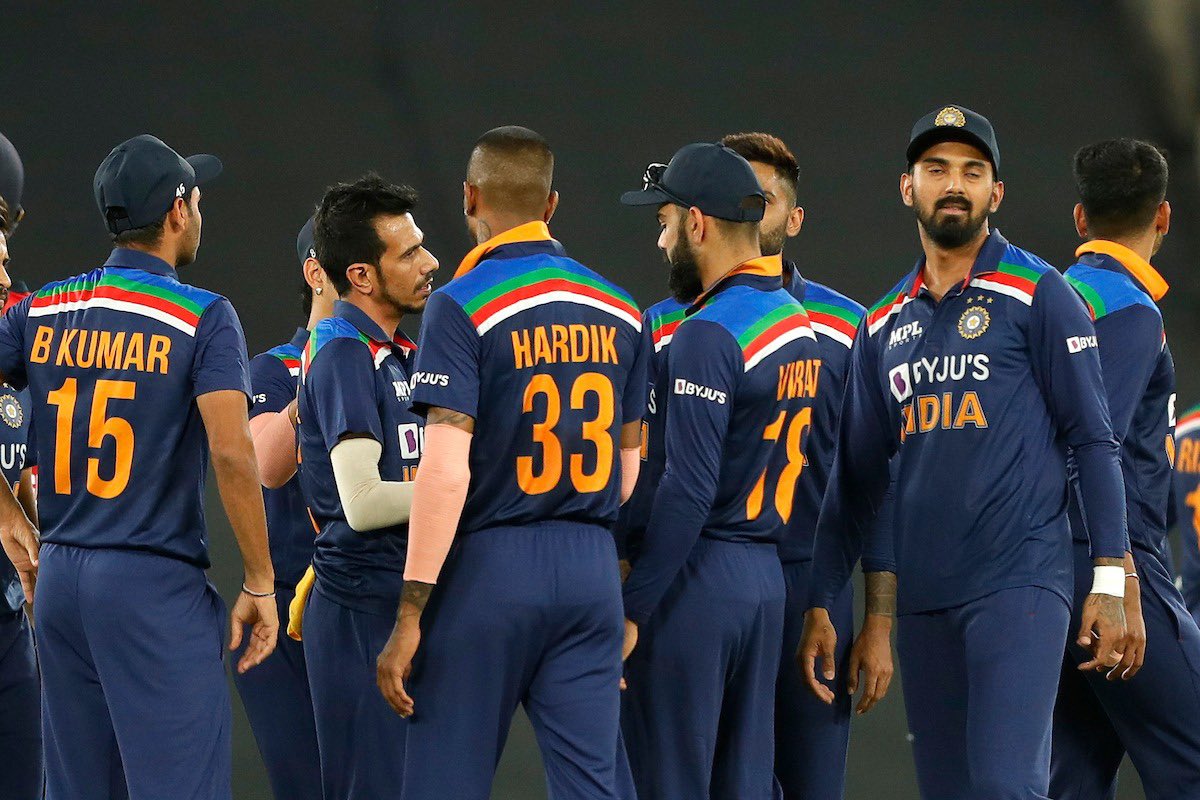 Read This: Kohli becomes the first batsman to score 3000 runs in T20I
Recently ICC Code of Conduct and Penalties
| | | | | | |
| --- | --- | --- | --- | --- | --- |
| Name | Team | Date of Breach | Incident | Level | Penalty |
| Tim Paine | Australia | 9/1/2021 | Following an uncessessful DRS review, Tim Paine used inappropriate language in dissent at the umpires decision. | 1 | Fine of 15% of Match Fee |
| Kyle Jamieson | New Zealand | 28/12/2020 | Kyle Jamieson, after fielding the ball on his follow-through, threw it in the direction of Faheem Ashraf at high speed when the batsman was away from the stumps within the popping crease and not intending to take a run. | 1 | Fine of 25% of match fee |
| Daryl Mitchell | New Zealand | 6//12/2020 | Daryl Mitchell used inappropriate and audible language as batsman Holder was running between the wickets. | 1 | Fine of 15% of match fee |
| Mamoon Latif | Belgium | 30/8/2020 | Mamoon Latif repeatedly advanced towards the batsmen, shouting abuse and swearing. | 2 | Reprimand |
| Stuart Broad | England | 8/8/2020 | Stuart Broad directed an inappropriate word at Yasir Shah after he dismissed him. | 1 | Fine of 15% of match fee |
| Josh Little | Ireland | 1/8/2020 | After dismissing Bairstow, Little ran towards him, pointed and used inappropriate language. | 1 | Reprimand |
| Scott McKechnie | Hong Kong | 3/3/2020 | Scott went into a prolonged argument with the umpire after being dismissed LBW. | 1 | Reprimand |
| Ravi Bishnoi | India U19 | 9/2/2020 | Ravi had been spoken to on two occasions by the umpires on the fall of wickets in regard to his actions/gestures towards the outgoing batsman, which could have provoked an aggressive reaction from the batsman on each occasion. | 1 | (L1) Fine of 50% of Match Fee |
| Ravi Bishnoi | India U19 | 9/2/2020 | Unnecessary and inappropriate physical contact with opposing players after the conclusion of the match, being conduct which brings the game into disrepute. | 3 | 5 Suspension Points |