Cricket News
ICC T20I rankings- Shamsi and Rizwan in career-best rankings
South Africa spinner Tabraiz Shamsi and Pakistan, wicketkeeper-batsman Mohammad Rizwan at his career-best ICC T20I rankings
Tabraiz Shamsi has risen to a career-best second position in the ICC T20I rankings for bowlers, following his four-wicket haul against Pakistan in Lahore.
Shamsi's series-topping six wickets, which included a haul of 4 wickets for 25 runs in the final match, helped Tabraiz Shamsi overtake Adam Zampa, Adil Rashid, and Mujeeb Ur Rahman to within three points of top-ranked Rashid Khan of Afghanistan.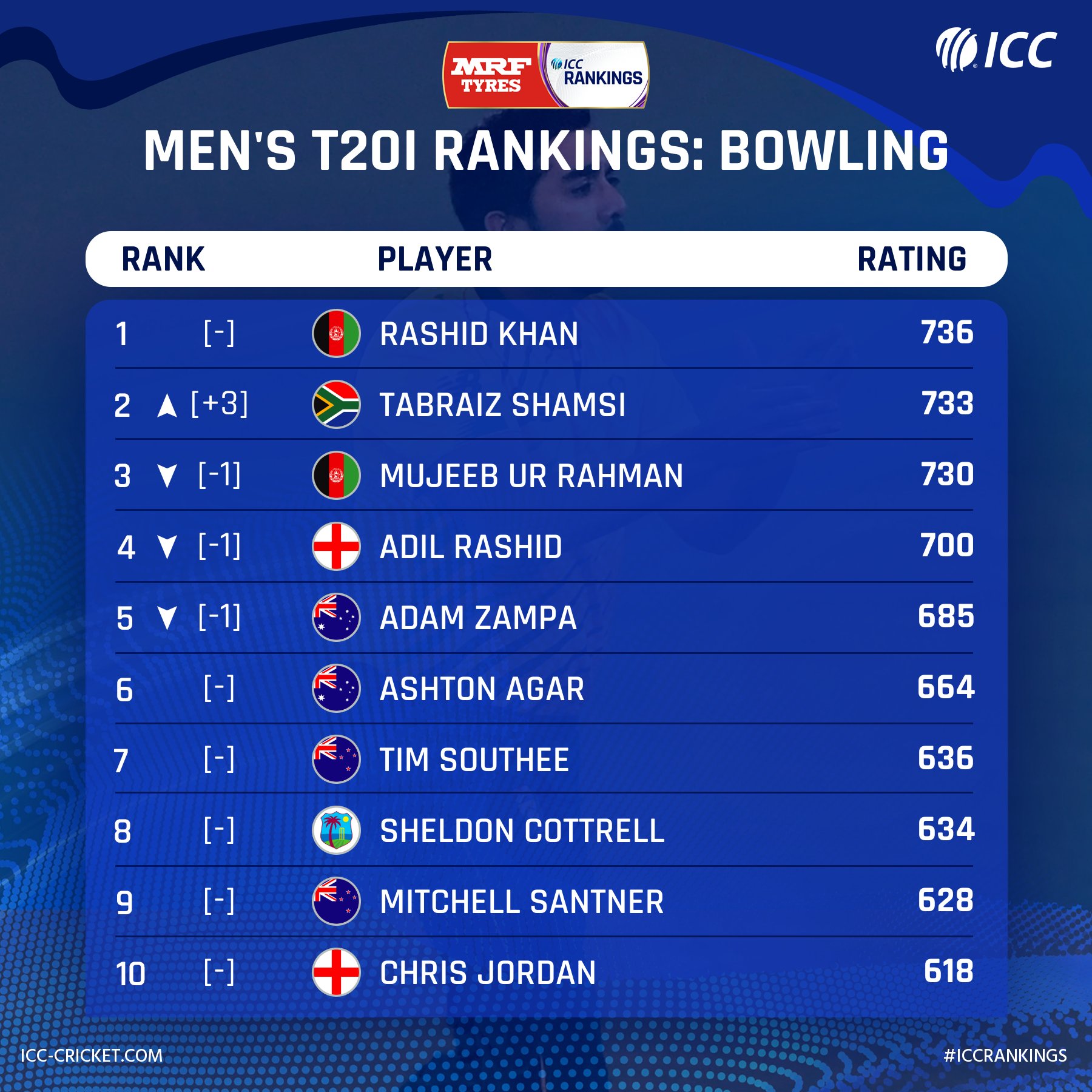 Pakistan, wicketkeeper-batsman Mohammad Rizwan was the biggest mover, jumping up 116 slots to 42nd position in the T20I batting list.
Rizwan was the leading run-scorer in the series, having hit 104*, 51, and 42 in the three matches. Rizwan had also been named the Player of the Series in the recently concluded Tests.
There was no change in the ICC team rankings. Pakistan, despite winning the series 2-1, remained in the fourth position with 260 points, while South Africa stayed in the fifth position.
ICC T20I Team Rankings
| POS | TEAM | MATCHES | POINTS | RATING |
| --- | --- | --- | --- | --- |
| 1 | England | 25 | 6,877 | 275 |
| 2 | Australia | 25 | 6,800 | 272 |
| 3 | India | 38 | 10,186 | 268 |
| 4 | Pakistan | 32 | 8,321 | 260 |
| 5 | South Africa | 23 | 5,776 | 251 |
| 6 | New Zealand | 28 | 6,952 | 248 |
| 7 | Sri Lanka | 23 | 5,293 | 230 |
| 8 | Bangladesh | 20 | 4,583 | 229 |
| 9 | Afghanistan | 17 | 3,882 | 228 |
| 10 | West Indies | 26 | 5,885 | 226 |
Babacric.in