This Company Announced: If India wins the World Cup, it will distribute Rs 100 crore. The much-awaited World Cup 2023 final between India and Australia will be played on Sunday. The final will be held at Narendra Modi's Ahmedabad Stadium.
Will Distribute Rs 100 Crore If India Wins World Cup:-
Before the World Cup final, a company announced that it would distribute Rs 100 crore if India won the World Cup. The name of this company is Astrotalk and its CEO Puneet Gupta has announced this.
Also read:- The Application Filed in Mahakal Temple For India's World Cup Victory
Puneet Gupta, while sharing his memories about India's 2011 World Cup win in his post on LinkedIn, has written, "When India last won the World Cup in 2011, I was studying in college, it was the best moment of my life. It was one of the beautiful days."
Recalling Before The 2011 World Cup Final, He Said:-
Recalling the atmosphere before the 2011 World Cup final, Gupta said, "We did not even sleep a day before the match and were discussing the strategy of the match the whole night."
The joy of India winning that World Cup was amazing and while describing it he has written, "When we won the match, I had goosebumps for the longest time. I hugged all my friends.
We went out on bikes in Chandigarh and performed Bhangra with strangers at every intersection. We embraced whatever we came across. It was truly the happiest day of my life."
Shared his Plans For The Upcoming World Cup:-
Expressing his desire to bring joy to Astrotalk users, Mr. Gupta shared his plans for the Upcoming World Cup. He said, "Last time I had some friends with whom I could share my happiness.
But this time we have a lot of AstroTalk users who are like friends, so I should do something to share my happiness with them."
"So, this morning I spoke to our finance team and promised to disburse ₹100 crore to our users in their wallets if India wins the World Cup," Gupta said.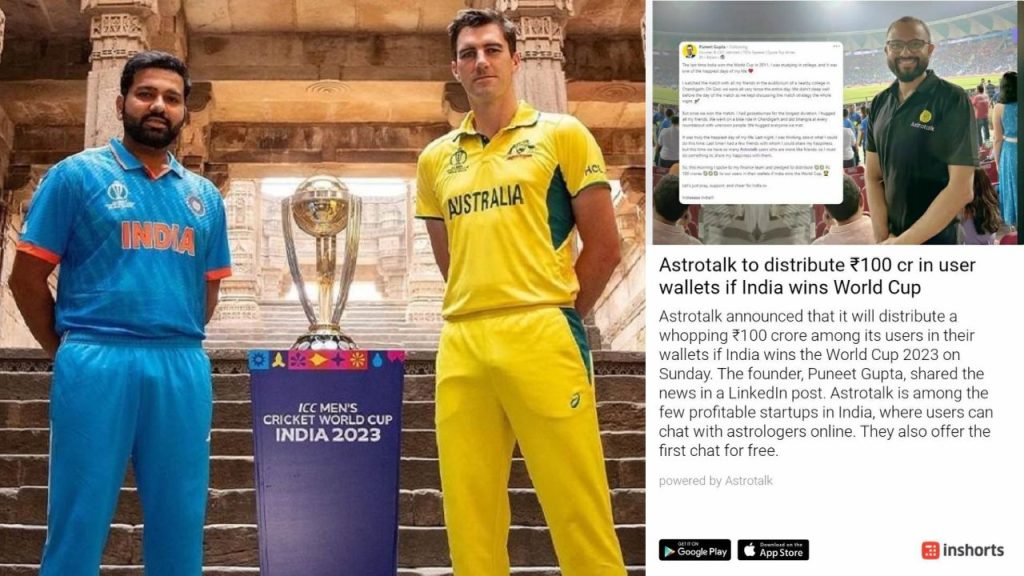 He further said, "Let us pray, support, and cheer for India. India, India!!! Love from before."
Read more:- IND vs AUS: All You need to know about India vs Australia in World Cup 2023 Finals
India, led by Rohit Sharma, will face five-time world champions Australia in the World Cup 2023 final on Sunday.
​