Cricket News
Bhuvneshwar Kumar Said, 'Captaincy Is Not Bad, Lost The First Match Due To Bowling'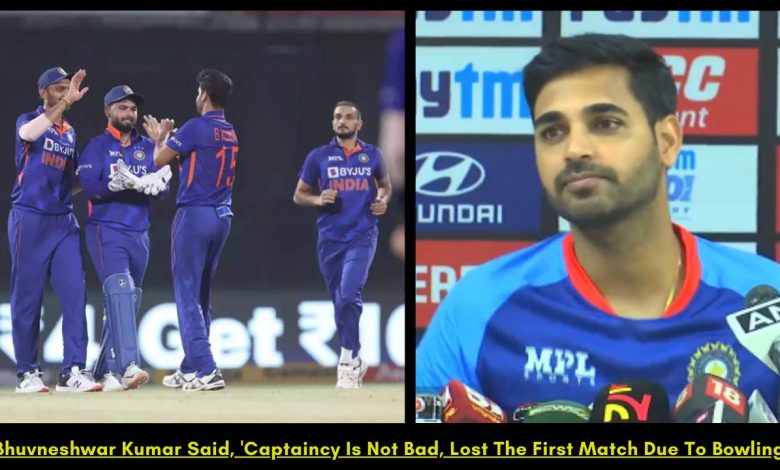 IND vs SA 2nd T20I: Bhuvneshwar Kumar said, 'Captaincy is not bad, lost the first match due to bowling', before the second match between India and South Africa (IND vs SA), today both the teams at Barabati Stadium in Cuttack. (Team India Practice) has arrived at Barabati Stadium.
The Indian team led by Rishabh Pant:-
After losing the first match, the Indian team led by Rishabh Pant will be eyeing the second T20 match.
Also read:- Massive Fire Broke Out in England Fast Bowler Stuart Broad's Pub
However, a lot of questions are being raised about the performance of the bowlers of Team India. In such a situation, Bhuvneshwar Kumar answered these questions in the press conference today.
After the loss in the first match, Bhuvneshwar Kumar said, "We have lost the first match due to poor bowling. The captain can't do much if the bowlers don't perform.
Hoping to return with bowling:-
There are no senior bowlers on the team, juniors need to improve their performance. I hope to come back with better bowling."
Batting first, India had scored 211 runs for the loss of 4 wickets, with Ruturaj Gaikwad (23), Shreyas Iyer (36), and Ishan Kishan (76) along with Rishabh Pant (29) and Hardik Pandya (31*). ) played an important inning.
Dashed India's Hopes:-
Initially, after taking 3 wickets of South Africa, it seemed that Team India was on the way to victory, but Miller and Dussen together ruined India's hopes.
Now in Cuttack, the Indian team will have to improve their performance, especially in the bowling, as the Indian bowlers conceded a lot of runs in the first T20.
Read more:- IND vs SA 2nd T20: Team India is Making A Strategy To Deal With Killer Miller
Due to this, it became very easy for the South African batsmen to chase such a big target.